OVERVIEW
Bridgerland-Cache Animal Hospital's large animal department cares for all kinds of pets and farm animals. These include, but are not limited to: performance and pleasure horses, cattle, sheep, goats, llamas, alpacas, pigs, elk, and deer. Our large animal doctors maintain membership in the American Association of Equine Practitioners, and The American Association of Bovine Practitioners.
PREVENTION OF DISEASES
Most of the animals we care for are part of a herd or small flock and are therefore exposed to many other animals. Because of this they are at high risk for various contagious diseases. Establishing a preventative program including customized vaccination schedules and regular health exams is a must. The old statement "An ounce of prevention is worth a pound of cure" certainly holds true here. We can customize your prevention program to fit the animal's health and your finances.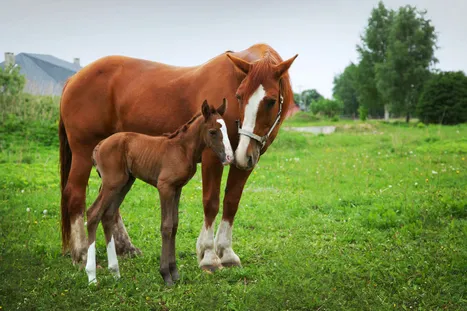 MEDICINE AND SURGERY
We are equipped to handle most medical situations on site with our ambulatory vehicles. Nevertheless, for reasons of cleanliness, anesthesia, and safety we prefer to do surgical procedures at the hospital.
EQUINE PERFORMANCE DENTISTRY
Unique to our equine friends is a procedure more commonly called "floating". We use and recommend the state of the art equine dentistry tool known as the PowerFloat. Regular dental exams and floating help ensure a long healthy life for your equine companion. Theses exams should start as early as 1 yr. of age.
EMERGENCIES
We understand that some circumstances are beyond your control and happen after regular business hours. Emergency services are available 24 hrs. a day. Take confidence in knowing that when there is an emergency we will provide prompt veterinary services any time of day. We appreciate your consideration when regularly scheduled appointments must be postponed due to emergency situations.