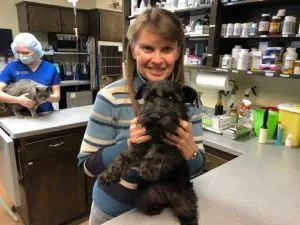 Dr. Tania Stewart :: Small Animal Veterinarian.
Veterinary School ::Washington State University 1987.
Pets:: Brixen: miniature schnauzer, Gus and Thomas: cats, Mouse: horse
Background: Dr. Stewart is a native of Cache Valley, where she attended Logan City schools and received her undergraduate Veterinary Science degree from USU. She married her husband, Mark, three days before starting vet school. They moved to Colorado Springs, Colorado after graduating from Washington State University in 1987, and then moved back to Cache Valley in 1996. They have two married sons and four grandchildren. In their spare time they love to hike, ride horses, travel, play golf and tennis, ski, and spend time with family.
Work Experience: She worked at a general practice for 1.5 years and then at an Emergency Clinic for 8 years in Colorado Springs before returning to Logan. She has worked at Bridgerland-Cache Animal Hospital since 1996. She loves all aspects of small animal veterinary medicine but she especially enjoys surgery and complicated medical cases. She also enjoys treating rabbits, rodents and other more exotic pets.