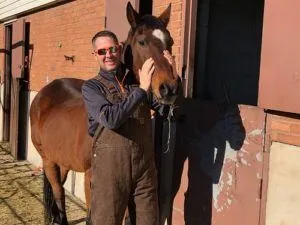 Doctor Jason S. Gibson :: Large Animal Veterinarian
Veterinary School :: Colorado State University, Masters Research in Equine and Canine Orthopedic Pathology
Pets:
Horse named "Mister Barry Bonds"
Background:
Grew up in a Veterinarian household. Married in 1996 to Michelle Petersen. We have five children – James Palmer Gibson II, Hannah, Tyler, Collin and Laine.
Work Experience:
I am a 3rd generation veterinarian following E.H. Gibson DVM (grandfather) and James P. Gibson DVM (father). I Graduated from Utah State in 1997, completed Veterinary School in 2001. Conducted masters research in Equine Orthopedic pathology on racehorses and cruciate ligament rupture in dogs. Strong interest in orthopedics and slowing the progression of osteoarthritis. My own dog, Elvis, has had cruciate ligament repair in both knees.